Air-con Filter エアコンフィルタ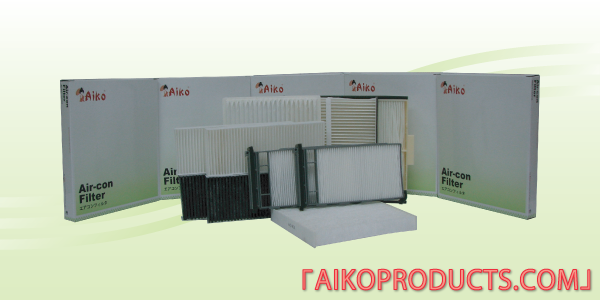 The cabin air filter, also known as air-con filter, helps trap pollen, bacteria, dust, and exhaust gases that may find their way into the vehicle through heating, ventilation and air conditioning (HVAC) system, making the interior of the car a healthier place. It is installed on the front unit of the vehicle's air-conditioner.

Aiko Genuine Air-con Filter elements are made to enhance the environmental air in the vehicle through efficient removal of pollen, bacteria, dust, as well as exhaust gases. This allows passengers to have hygienic and comfortable journey at all times. Apart from this, Aiko Air-con Filters can also help maintain the vehicles' air conditioner.

In order to ensure optimum filtration performance, it is advised to change the air-con filter once every 15,000km to 25,000km. However, results may vary depending on the vehicle type or product type.